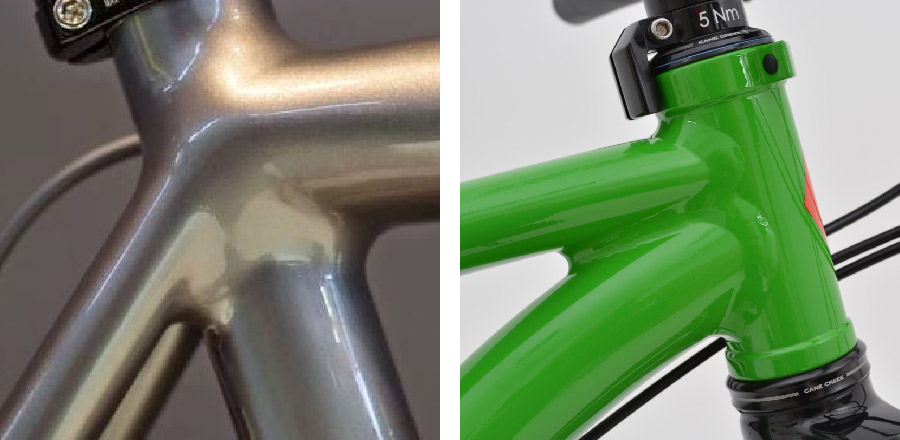 The left photo shows the weld seam of a frame which has been mechanically machined after welding, in order to achieve an optically as smooth and seamless connection as possible. For this purpose, the finished weld seam is worked with a so-called finger grinder, often referred to as 'power file'. During this process, material is removed. Despite the progress of automation, this is a real craft that requires a lot of workmanship and accuracy. The challenge is to realize the desired perfect and complex shape, while on the other hand avoiding accidentally removing more material than intended or possibly even removing material from the welded tubes.
However, even if no mistakes are made, this type of ground-over welded seam is a weakening of the frame. This is clearly demonstrated by fatigue tests run in a lab to find out when and where frames fail when treated to repeated loads.
Material scientists explain those failures like that: The material structure that is formed when welding seam cools down from its liquid state, is 'opened' by the grinding. As a result, microcracks can occur along the so-called grain boundaries in the material. This happens under load, directly under the surface of the sanded weld seam, which can lead to larger cracks.
Welding and materials scientists therefore consider such a machined weld as a weak point. However, many frame manufacturers still work in this way, often although they are aware of the disadvantages, in order to increase the aesthetic attractiveness of their frames.
For idworx, such an approach is out of the question. We set other priorities for our products. Of course we try to offer the best possible frames, but we value service life, functionality and weight higher than the aesthetical appearance.
Therefore, idworx frames are welded using the so-called 'Smooth-Weld' technique, as shown in the photo on the right. Another weld seam is applied over the actual welding seam, which connects the tubes. For this visible welding seam, a different welding filler material is used which, when the weld seam is solidified, creates a surface which is as smooth as possible without the scaly structure which is so typical in welding. Although you can see and feel the weld seam, it's also smooth and most customers prefer it. In addition, this smoother surface, which is not produced by
grinding, also has advantages over a machined weld seam in terms of durability.
The additional heat applied to the frame during the application of this second weld seam has no negative effect on the durability of the frame, since the structure in the heat-affected zone of the weld seam can recover during the absolutely necessary
T6 heat treatment of any welded (and aligned) aluminum frame.