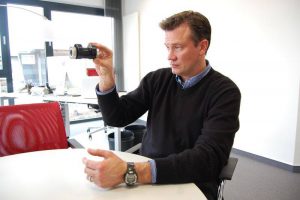 Do you like your bike painted in a special color?
Do you want your idworx with components tailored to your needs?
Or would you like to have your idworx simply as a unique, one of a kind  bicycle, including personal consult of myself, Gerrit Gaastra, to help you realize this.
The idworx Super Custom Program is the fastest, most uncomplicated and certainly the most exciting way to realize your individual idworx bike.
What is possible within the framework of the idworx Super Custom Program?
The possibilities are numerous, so I can't describe them all here. The most frequently expressed wishes are:
Design your individual bike, with frame, fork and certain components of your choise.
Choosing components such as hubs, spoke nipples, seatpost and stem, all in matching colors.
Different choice of handlebar, stem, handlebar grips, seatpost, tires, etc.
Let your imagination run wild and share your ideas with me. Then we'll talk about it.
However, a few choises are unfortunately not possible at the moment:
A custom-made frame with your desired geometry.
Omitting or changing basic functions of the frame such as idworx iSR, EBB. These features are, as well as certain components (e.g. the Rohloff Speedhub on our Rohloff bikes), integral part of the respective bicycle concepts and frame, and therefore cannot be changed.
The use of a different fork on our trekking bikes.
The use of other rims than the ones provided by us on our bikes with Magura FIRM-tech brakes.
How does the procedure work?
The whole process is based on direct communication between you and me.
You describe your ideas in the e-mail contact form, as detailed as possible.
Then I will get in contact with you by telephone, to discuss which of your ideas can be realized and where we have to make changes if necessary. Alternatively you can also visit us. Then we will get to know each other and can discuss your project personally, while you look at the possibilities on the spot.
We will give you a detailed quotation, so that you know which price to expect.
Should this still result in a change in requirements, we will clarify this in further telephone calls.
If all details including the expected delivery date are fixed, you confirm the order with your signature and then receive an invoice for a down payment (50% of the purchase price).
You decide whether you would like to pick up your idworx from us or from your idworx dealer or receive it via a transport company.
I am looking forward to your ideas and to our discussions.
The journey starts here …